Bigg Boss 16: Recently the promo video of Bigg Boss 16 has been released, in which the fight of Archana Gautam and Shiv Thackeray is shown in detail. But after this promo video, Nimrit Kaur Ahluwalia has come under the target of people.

Bigg Boss 16: Bollywood's famous actor Salman Khan's big bang show 'Bigg Boss 16' has come in the headlines for Archana Gautam. Actually, Archana Gautam was thrown out of the show on the previous day due to being violent. The decision to throw him out was taken by none other than Shiv Thackeray. Actually, Archana Gautam had caught Shiv Thackeray's neck in the middle of the debate, on which many family members also stood against him. At the same time, recently another promo video related to this has been released, due to which people trolled Shiv Thakare and Nimrit Kaur Ahluwalia fiercely.
bigg boss 16 It was shown in the promo video of (Bigg Boss 16) that Archana Gautam And there was an argument going on in Tina Dutta about some stuff. Actually, Archana Gautam had hidden the box of tissue paper, on which Tina Dutta demanded to keep it in the bathroom. Meanwhile, Archana Gautam gave the reverse answer, on which Shiv Thackeray spoke in the midst of their quarrel. Disturbed by his words, Archana Gautam said that you do not fall between us. I have no interest in talking to you. Shiv Thackeray also said, "I am interested in talking to Didi." Archana did not like this thing of Shiva and she first slapped the actor and later grabbed his neck.
Watch 'Bigg Boss 16' promo video
View this post on Instagram
Fans react to the promo video of 'Bigg Boss 16'
Seeing this attitude of Archana Gautam, the rest of the members created a ruckus. Where on one side Nimrit Kaur Ahluwalia started shouting, "How have you touched. Bigg Boss no one can raise hands in your house." Along with this, he also told Archana Gautam fiercely. But this style of Nimrit Kaur Ahluwalia was not liked by the audience at all and they trolled her fiercely.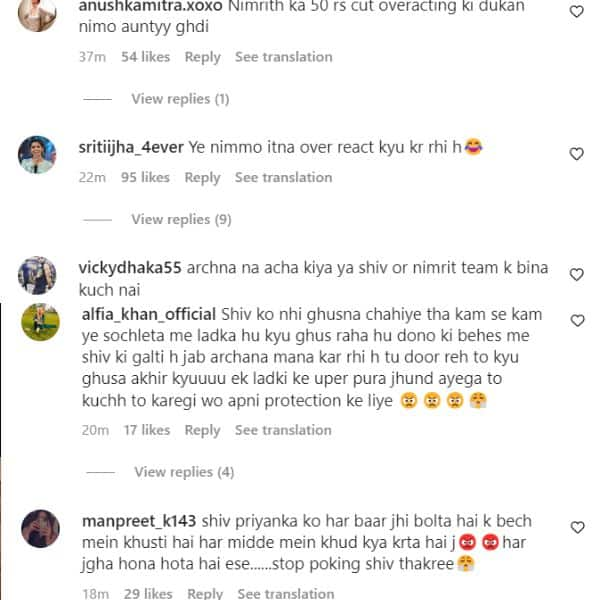 Watching the promo video of Bigg Boss 16, a user wrote, "Nimrit's 50 rupees deducted overacting shop." Another user asked, "Why is this Nimrit overacting so much." A user named Payal demanded the removal of Nimrit Kaur Ahluwalia and wrote, "Please take out this Nimrit." A user named Manpreet took a dig at Shiv Thackeray and wrote, "Shiv tells Priyanka every time that she enters in the middle of every issue. What does he do himself." A user named Sharan wrote, "Shiva has promoted. First Priyanka harassed Ankit and now Archana is stuck."
Click here for the latest news from Bollywood, Hollywood, South, Bhojpuri and TV world…
Facebook page of Bollywood Life Hindi, twitter pageClick here to join youtube page and instagram account…
Follow us on Facebook Messenger for the latest gossip.