Bigg Boss 16: A promo video of 'Bigg Boss 16' is going viral on social media in which Sumbul Tauqir Khan and Shaleen Bhanot were seen arguing over the nomination process. In the midst of the debate, Shaleen called Sumbul 'Yedi', due to which the fans expressed their displeasure.

Bigg Boss 16 Promo Video: Salman Khan's banging show 'Bigg Boss 16' is winning a lot of hearts these days. The nomination process was completed in 'Bigg Boss 16' last day, in which seven contestants were nominated to be evicted from the house. Soundarya during the nomination process and Shaleen Bhanot to (Shalin Bhanot) Sumbul Tauqeer Khan (Sumbul Touqeer Khan) and Shiv Thackeray had to be nominated, on which Shaleen was repeatedly taking Sumbul's name. Sumbul Tauqeer Khan was heartbroken by this. At the same time, recently a promo video of 'Bigg Boss 16' has been released, in which Sumbul Tauqeer Khan and Shaleen Bhanot were seen arguing with each other. In the midst of the debate, Shaleen Bhanot called Sumbul 'Abe Yedi', to which the users demanded his immediate expulsion. Also Read – Kirron Kher told Bigg Boss 16 host Karan Johar as Anarkali, said 'Mujra kar…'
View this post on Instagram

'Bigg Boss 16' In the promo video of Bigg Boss 16, it was shown that Sumbul Touqeer Khan complained to Shalin Bhanot and said, "You once said that it should be safe. My exams are repeated again and again." Don't take it." In response, Shaleen Bhanot said angrily, "Abe Yedi, you don't understand what." At the same time, Sumbul also did not back down from answering them. He said to Shaleen, "I came to you even after so many nonsense things were said about you." Shaleen Bhanot replied, "I don't need you." Also Read – Bigg Boss 16: This handsome hunk became the captain of the house for the second time, keeping the need of the family members at bay, he grabbed the throne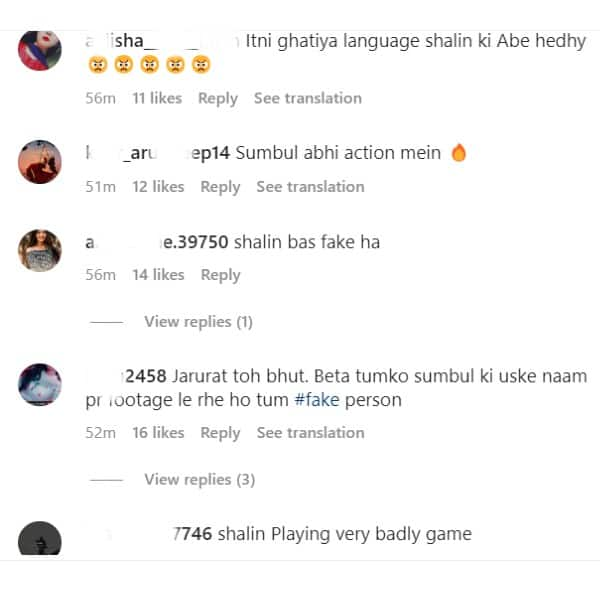 Also Read – Salman Khan was not the first choice of the makers as the host of Bigg Boss, these stars also got offers
Users reacted like this after watching the promo video of 'Bigg Boss 16'
After watching this promo video of Salman Khan's show 'Bigg Boss 16', the fans attacked Shaleen Bhanot fiercely and also demanded her to be thrown out of the show. A user took a jibe at Shaleen Bhanot's language and said, "Such poor language Shaleen ki 'Abe Yedi…." On the other hand, another user took a dig at Shaleen Bhanot and wrote, "Need a lot, son, you are Sumbul. You are taking footage in his name. Fake person." Many users also tried to guess the whereabouts of Sumbul Tauqeer Khan. One user wrote while asking, "When will this Sumbul's eyes open."
Click here for the latest news from Bollywood, Hollywood, South, Bhojpuri and TV world…
Facebook page of Bollywood Life Hindi, twitter pageclick here to join youtube page and instagram account…
Follow us on Facebook Messenger for the latest gossip.