Goldmines to release Hindi version of Telugu Movie Drushyam 2: A surprising information has come out about Bollywood superstar Ajay Devgan's film Drishyam 2. It is reported that the Hindi dubbed version of Telugu's Drishyam 2 is going to be released in Hindi even before Ajay Devgan's Drishyam 2.


Goldmines to release Hindi version of Telugu Movie Drushyam 2: There is a lot of buzz these days about Bollywood superstar Ajay Devgn's upcoming film Drishyam 2. The Dhansu trailer of this film has already been released. Now everyone's eyes are on its release date. The film is going to release in theaters on November 18. Bollywood superstar Ajay Devgan also has high hopes from this film. So his fans are also in the same condition. But before this, superstar Ajay Devgan is going to get a shock. It is reported that even before the release of this film, the Hindi dubbed version of its Telugu version is already going to reach TV. Due to which the makers of the film can suffer a lot.
Drishyam 2 releasing in Hindi on October 22
Actually, blockbuster Malayalam film visible 2 Not only Hindi but also recreated in Telugu language. Along with the Malayalam film, the Telugu version was also a super hit. now this movie in hindi Ajay Devgn Bringing it to the audience. But there is a buzz that Goldmines TV is already planning to release the Hindi version of Telugu's Drishyam 2 Aankhen 2 on TV. Goldmines TV itself also announced this. Goldmines TV had made preparations to release both the parts of the film on 22 October. Which was announced by releasing the Hindi dubbed version of the film's trailer. However, this video was deleted shortly after.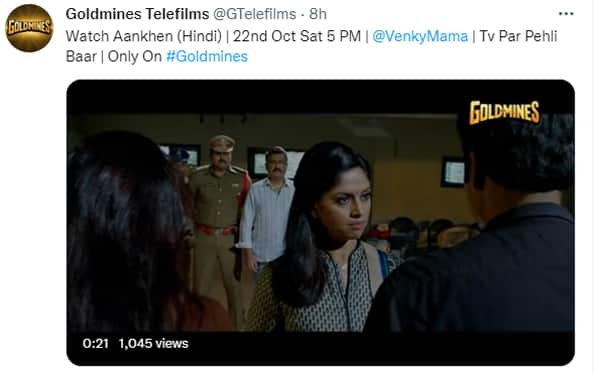 Goldmines reversed decision
Although this will happen, it is not clear. Because when we checked the Twitter handle of Goldmines to check these news, the release of Aankhen has been announced in the day on 22nd October. But there is no information about Aankhen 2. After doing a little more research, it was found that Goldmines had announced the release of both the films a day earlier. But that tweet has now been deleted. After some time, the tweet of the release of Aankhen was also deleted. In such a situation, has Goldmines changed its decision? Was there pressure on him not to release the Hindi version of the films? This thing is raising many questions. However, if this film had reached TV in Hindi, then the makers of Drishyam 2 could have suffered a huge loss.
Click here for the latest news from Bollywood, Hollywood, South, Bhojpuri and TV world…
Facebook page of Bollywood Life Hindi, twitter pageclick here to join youtube page and instagram account…
Follow us on Facebook Messenger for the latest gossip.