Anupama: In Anupama, Pakhi often taunts her family for being middle class. But when in real life Pakhi i.e. Muskaan Bamne's mother was called middle class by the troll, the actress got angry. He also took a class on that troll fiercely.


Anupam: TV's explosive serial 'Anupama' has left no stone unturned to win the hearts of the people. But these days Anupama's Pakhi remains the most talked about. Actually, Pakhi had insulted her mother i.e. Anupama, as well as called her maternal grandmother and maternal uncle as middle class. However, for this, Anupama slapped her spoiled daughter hard. But in real life when Pakhi means smile left When someone called my mother middle class, her mercury rose to the seventh sky. He not only took a fierce class of trolls, but also explained to the people that he is not Pakhi. Also Read – As soon as these characters were slapped, the happiness of the audience reached the fourth sky, the makers also looted a lot of TRP
Actually, smile left (Muskan Bamne) shared a photo with his mother and grandmother. Sharing this photo of hers, the actress wrote, "Mummy, grandmother and me." But by commenting on this photo of her, a user called her mother 'middle class'. The user wrote, "In real life, you are also middle class." Muskaan Bamne's anger erupted on this comment of the user and he took a tremendous class of troll by sharing Instagram story. Also Read – Anupama 17th November Episode: After Pakhi, now Anupama will make Barkha-Ankush homeless, a big accident will happen again with Anuj
View this post on Instagram

Anupama Actress Muskan Bamne, while replying to the comment of the troll, put a lot of class on him. Not only this, while sharing the Instagram story, the actress asked others to understand as well. The actress wrote, "The photo that I shared today with my mother and grandmother, a comment came that in real life your mother is also middle class. Which has now been deleted. But I want to tell you something. I want to explain." Also Read – Rupali Ganguly was not the first choice of Anupama's makers, Rajan Shahi had approached these beauties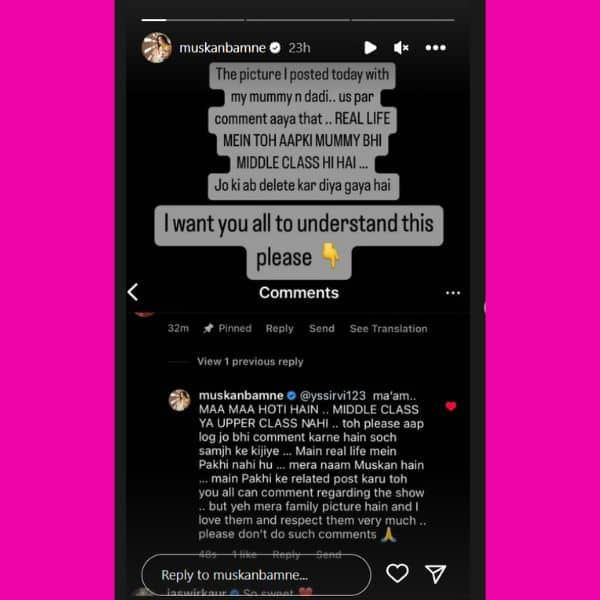 Let us tell you that Muskan Bamne, while replying to the comment of the troll, wrote, "Mam maa maa hoti hai, middle class or upper class nahi, please think carefully about whatever you are commenting. I I am not Pakhi in real life. My name is Muskaan. If I post related to Pakhi then you can comment related to the show. But this is my family's photo and I love them very much. So please don't comment like this "
Click here for the latest news of Bollywood, Hollywood, South, Bhojpuri and TV world…
Facebook page of Bollywood Life Hindi, twitter pageClick here to join YouTube page and Instagram account…
Follow us on Facebook Messenger for the latest gossip.