Bigg Boss 16 Archana Gautam Priyanka Chahar Choudhary Fight: A promo video related to Salman Khan's big bang show Bigg Boss 16 has been released in which both were seen fighting. The surprising thing is that Sajid Khan's captaincy was seen to be grinding in this quarrel.


Bigg Boss 16 Promo Video: Salman Khan's big bang show 'Bigg Boss 16' has left no stone unturned to rock the small screen. In Salman Khan's show, fights and games of contestants are being seen on the coming days, due to which the audience is also getting a lot of entertainment. Archana Gautam's entry was made in Bigg Boss 16 last Sunday. He was evicted from the house for raising his hand on Shiv Thackeray. But recently a promo video of Bigg Boss 16 has been released, seeing which Archana Gautam's attitude has not changed at all. At the same time, there seems to be a rift in Priyanka Chahar Chaudhary and her friendship.
'Bigg Boss 16'' (Bigg Boss 16) promo video showed that Archana Gautam and Shiv Thackeray had a fight over kitchen work. In the midst of the fight, Archana Gautam said such a thing about Priyanka's parents that the actress got very angry. At the same time, Sajid Khan was also seen getting crushed in the fight between the two. archana gautam in promo video, Priyanka Started giving kitchen work to. To this the actress replied, "You don't tell me what I have to do or not." On this Archana Gautam said, "Didn't your parents teach you how to cook?" (Also Read: Bigg Boss 16: These six members are completely safe from nomination, even Salman Khan will not be able to do Bal Banka)
View this post on Instagram
Priyanka Chahar Chaudhary's mercury rose due to this talk of Archana Gautam. At the same time, Ankit also advised Archana to talk in manners. Due to the fight, both of them left their work and sat down, due to which Sajid Khan's problems increased. Sajid said that friend, I do not want quarrels between both of you. But the tussle between the two continued, to which Sajid Khan finally said, "Actually it's not a captain's job."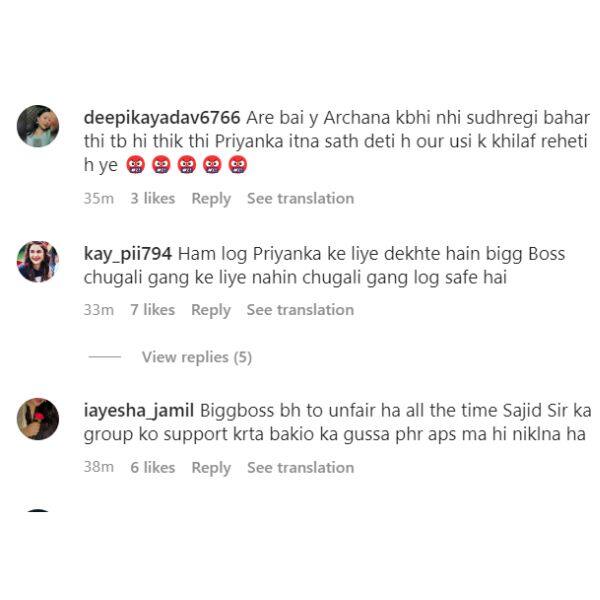 Fans are also giving a lot of reaction regarding the promo video of Bigg Boss 16. A user questioned the friendship of Archana Gautam and Priyanka Chahar Chowdhary. So on the other hand, while taunting Archana Gautam, another user wrote, "Hey brother, this Archana will not improve. Priyanka used to support her when she was outside, now she is against her."
Click here for the latest news of Bollywood, Hollywood, South, Bhojpuri and TV world…
Facebook page of Bollywood Life Hindi, twitter pageClick here to join YouTube page and Instagram account…
Follow us on Facebook Messenger for the latest gossip.