Sajid Khan After He Was Caught Smoking: Sajid Khan is badly trapped in Bigg Boss 16 house after openly smoking cigarettes. People have once again started targeting Sajid Khan on social media.


Sajid Khan After He Was Caught Smoking: Salman Khan Controversial reality show of Bigg Boss 16 Has been on the target of trollers since day one. People are not happy to see Sajid Khan in the Bigg Boss 16 house. People want Sajid Khan to be thrown out of Bigg Boss 16 house as soon as possible. However, even after so much ruckus, the makers of Bigg Boss have not even crawled on their ears. Meanwhile, Sajid Khan has once again come under attack from haters. In the last episode of Bigg Boss 16, Sajid Khan has done something because of which people are lashing out at him.
In the last episode of Bigg Boss 16, Sajid Khan was seen fighting for the post of captaincy. Sajid Khan also had a fight with Tina Dutta to become the captain. After which Sajid Khan was seen smoking a cigarette sitting in the garden area of ​​Bigg Boss 16's house. There has been an uproar on social media as soon as this picture of Sajid Khan surfaced. People are trolling Sajid Khan badly.
See Sajid Khan's viral photo-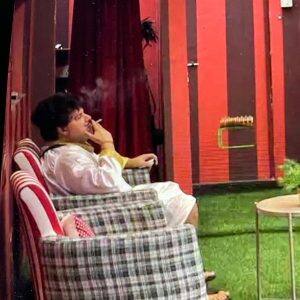 Now everyone knows that smoking is not allowed in Bigg Boss house. A separate room has been made in Bigg Boss house for smoking cigarettes. Whoever smokes a cigarette in the Bigg Boss house gets punished. At the same time, Sajid Khan was seen flouting this rule of Bigg Boss. Seeing this act of Sajid Khan, people are also reprimanding the makers of Bigg Boss.
See people's comments-
Sajid Khan sitting on sofa set & smoking with crossed legs!! Like how can he even make me captain?? , Business next level? #SoundaryaSharma #PriyankaChacharChoudhary #biggboss #bb16 pic.twitter.com/kshYhJVrl8

— Soundarya Sharma fanclub? (@namemaikyarak) November 14, 2022
Sajid khan openly smoking cigarettes during captaincy task and big boss not warning him… Please get him out of house@BeingSalmanKhan #BIGBOSS16 #sajidkhan

— Kuldeep (@Kuldeep30883929) November 14, 2022
I hope #abdurozik gets a reality check after what happened in yesterday's episode, I hope he stays away from #sajidkhan and #nimritkaurahluwala as well as #SumbulTouqueerKhan #biggboss16

— Mohammad Haris Khan (@Mohamma81833960) October 15, 2022
But not fair with #priyanka

Big boss har br favor krre hai shiv ke gang ko
Mtlb vip bna ke rakha hai damad #SajidKhan Ko or Bahu #nimrit who and also #AbduRozik who also#PriyaAnkit #PriyankaChaharChaudhary #AnkitGupta?

— Aliya Khan ❤️ (@aliyakhan95070) October 15, 2022
Bigg Boss should break trophy in 4 parts and distribute it to Sajid's/Abdu's favourites….
Clearly based#BB16 #BiggBoss #BiggBoss16 #colorstv #SajidKhan #AbdulRozik

— Aditya Kumar (@Adityakumar890) October 15, 2022
Sala harami ko #bb16 throw spring #sajidkhan

— dhavalpatel (@dhavalpatel672) October 15, 2022
Big Boss Contestant Gori Nagori Video
One user commented and wrote, Sajid Khan is openly smoking cigarettes during the captaincy task. Bigg Boss did not stop Sajid Khan even once. Get Sajid Khan out of the Bigg Boss house. Another user wrote, Bigg Boss makers are scared of Sajid Khan. No one has the courage to stop Sajid Khan. Not only this, a user has even told Sajid Khan as the son-in-law of Bigg Boss house.
Click here for the latest news of Bollywood, Hollywood, South, Bhojpuri and TV world…
Facebook page of Bollywood Life Hindi, twitter pageClick here to join YouTube page and Instagram account…
Follow us on Facebook Messenger for the latest gossip.