Urfi Javed Reply To Sudhanshu Pandey: Urfi Javed had congratulated the fans by sharing a topless video on the special occasion of Diwali, after watching which Vanraj i.e. Sudhanshu Pandey was overwhelmed. He called this video shoddy, as well as reprimanded the media.


Urfi Javed Reply To Sudhanshu Pandey: Famous TV actress Urfi Javed leaves no stone unturned to grab headlines with her dressing sense. But Urfi Javed surprised people by sharing a video of himself on the special occasion of Diwali. Actually, he congratulated the fans on Diwali by going topless. But his style was not liked by the common people, even many stars. ,Anupama' actor Sudhanshu Pandey (Sudhanshu Pandey) not only called this video of Urfi Javed 'shoddy' but also slammed the media for promoting him. Although Urfi Javed himself did not back down from answering Sudhanshu Pandey. He gave a befitting reply to the actor by sharing the story on Instagram. Also Read – Seeing the new dress of Urfi Javed, the blood of the trolls boiled, this time the body was covered with the reel of the cassette
urfi javed Describing the video of (Urfi Javed) as 'shoddy', 'Anupama' actor Sudhanshu Pandey wrote in his post, "I do not follow this human being, but even after this I get to see these lousy things daily, its The reason is none other than news channels. How can you people promote such things on a holy festival like Diwali. For God's sake, it is the day of Lakshmi Puja." At the same time, Urfi Javed also replied by writing a long post to Sudhanshu Pandey. Also Read – Urfi Javed blew the senses of people by making a dress from a cassette reel, you will be stunned to see the video
View this post on Instagram
Urfi JavedAnupamaReplying to actor Sudhanshu Pandey, he wrote, "You see such lousy things because you don't control the world. I don't like to see a man like you. You say you don't like to see me, right? If you can't find dialogues in Anupama, then thought I should use Urfi to gain popularity. Until you are able to buy things like Instagram, Twitter and Facebook, you will have to look at me. Well, I have never seen you accused of sexual abuse present in the industry. I have not seen raising my voice against it. But it is necessary to raise voice against me, because what I have worn on my body or not, by this you mean. Also Read – These Bollywood stars have been accused of spreading obscenity, alias Javed's name added to the list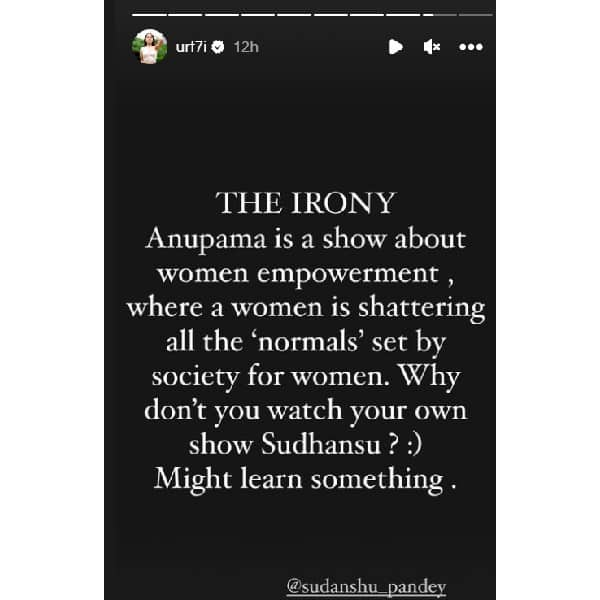 Urfi Javed advises Sudhanshu Pandey to watch 'Anupama'
Urfi Javed did not stop here. He advised Sudhanshu Pandey to watch 'Anupama' in one of his posts and wrote, "Anupama is a show built on women empowerment, where a woman is breaking all the shackles established by the society. Why not your own show? See Sudhanshu? Will definitely learn something from there."
Click here for the latest news from Bollywood, Hollywood, South, Bhojpuri and TV world…
Facebook page of Bollywood Life Hindi, twitter pageclick here to join youtube page and instagram account…
Follow us on Facebook Messenger for the latest gossip.